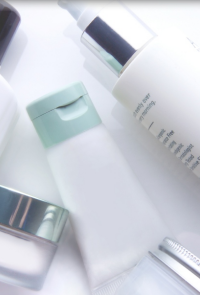 Rosacea Treatment:
Skin Care for Rosacea Skin
Cleansers
It is important for people with rosacea not to wash their face too often. A twice daily cleansing of your skin is recommended to remove oils, makeup and impurities. Cleansing will also provide a cooling effect that can calm your skin and temporarily relieve sensations of burning and itching. Selecting a gentle, mild skin cleanser that does not contain irritating ingredients, such as fragrances and preservatives, is essential.
Use of any washing aid such as a sponge, brush or wash cloth, especially those with a rough surface, can further aggravate your skin. Let your skin dry before applying either a moisturizer or medication.

Mild Cleansers
Different gentle skin cleansers are available for rosacea. There are several types of mild cleansers that you may use, if your skin is irritated or aggravated.

Skin Cleansers For Different Skin Types
Oily skin: The selection of cleansers for oily skin should involve using products that rinse off well. Both bar soaps and liquid cleansers have been formulated for this purpose.
Cosmetics
Makeup can be a useful cosmetic tool to conceal or camouflage symptoms of rosacea. It is important to choose oil-free products with non-sensitizing ingredients. In particular, foundations or concealers with a green-tint are helpful in covering up redness, blood vessels and blemishes.
For those with dry, flaky skin, stay away from powder formulations, as these products will collect in the areas of dryness and worsen the appearance of your skin. Make certain that you remove your makeup by the end of each daily with a gentle cleanser.

Non-Comedogenic Cosmetics
Non-comedogenic cosmetics are products which have been tested on the oily skins of human volunteers, or inside rabbit ears.

Skin Foundations
Face foundations are used to cover skin blemishes, and acne, as well as to even out and give colour to your face. There are four basic types of foundations.

Skin Foundations For Different Skin Types
Some types of skin foundations work more effectively for different skin types. Read on to find out what will work best for you.

Skin Camouflage
Skin Camouflage is useful cosmetic for covering skin defects. A concealing cream may be applied to the skin prior to a foundation. The foundation in this case should either be sheer or opaque.

Perfume Free Cosmetics
Perfumes and scents are used widely in the cosmetic industry to hide odor from the raw materials. They are also used to add appeal to the cosmetic or beauty product.
Moisturizers & Sunscreens
Moisturizers
Having sensitive, but dry skin is common among individuals with rosacea and selecting a suitable moisturizer will help you to manage your condition.

Sunscreens
Being sun smart is good practice for everyone, in particular for those with rosacea. The sun is one of the most common triggers of rosacea flare-ups.
---